UCLA Bruins Win 2018 National Championship
NCAA Beach Volleyball Tournament: UCLA Bruins, 2018 National Champions!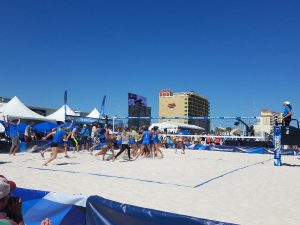 By Stephen McCarthy, Prepvolleyball.com
Gulf Shores, AL: UCLA's all-around game proves too much for Florida State Seminoles' power. UCLA cruises to the their first NCAA Beach National Championship.
In the day's first match, UCLA narrowly escaped from a tenacious and determined Hawaii team. With UCLA leading 2-1, Hawaii needed a set win on court 2 to stay alive. Lea Monkhouse and Morgan Martin of Hawaii delivered a 25-23 win. After the final set point, the entire crowd sprinted to court 3 to see if UCLA would advance or Hawaii would extend the match. UCLA came from 9-5 down to even the 3rd set at 11, but Hawaii closed out the match to even the dual at 2 a piece. Attention turned back to the court 2 third set, the winner would advance to the finals. UCLA's Lily Justine and Sarah Sponcil took 8 of the final 12 points to win the match and the dual for UCLA.
The finals match was a showcase of UCLA's offensive and defensive skills from the start. UCLA jumped out to a quick lead to neutralize Florida State's big home court advantage. UCLA continued to keep the pressure up on every court with Florida State never seeming to gain any momentum. In the end, UCLA finished off Florida State in classic beach volleyball style; creative and aggressive shot-making and great athletic touches on defense.
Top Pair of the Tournament:
1. UCLA: Nicole and Megan McNamara, The combination of tough jump serves, running the option offense to perfection, and gritty defense lead the Bruin's match after match. During the entire weekend, the twins did not make many unforced errors and when another pair challenged them, they responded with a great touch, a big serve, or a creative attack to turn the match in their favor.
---