NCAA Beach Volleyball Tournament: Day 2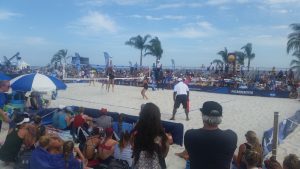 By Stephen McCarthy, Prepvolleyball.com
Gulf Shores, AL: The intensity of Day 2 at Gulf Shores started as soon as California rivals USC and Pepperdine squared off in the first match, in which, USC prevailed and eliminated the number two seed Pepperdine. After being upset in Day 1, UCLA returned to the court with an edge and moved quickly past LSU and USC on the day. But the dual of the day was Florida State and Hawaii took the courts. With the help a raucous home crowd, Florida State took 3 of 4 third sets to win the dual and punch their ticket to the finals.
With Tallahassee a short 3 hour drive from Gulf Shores, AL, the atmosphere was decidedly pro-Florida State. A slow start by Hawaii in 4 out of the 5 matches made it look and sound like it would be a blowout, but Hawaii rode out the crowd and took a small lead into the second sets. The tables continued to turn in Hawaii's favor as Hawaii traded set wins and winning one match. With four of the five matches going three and the FSU faithful sprinting from court to court to court to watch the third sets. It came down to a windy court 5, Madison Fitzpatrick and Francesca Goncalves of FSU prevailed 15-12 to advance the team, 3-2 to the finals. With the loss, Hawaii-UCLA will play for a chance to play FSU in the finals.
Top Pairs of the Day:
1. UCLA: Nicole and Megan McNamara, It is not that they win, it is how they win. The pair show a big serve to win points, come back with big touches and great sets to unleash an array of creative attack shots that, more times than not, land in their intended spot. A unique pair of creative young players and the best team in the tournament.
2. USC: Abril Bustamante and Tina Graudina, decidedly improved from Day 1. Abril played with an injured hand and the pair blistered LSU and UCLA with power and solid defense. In second match, Abril and Tina went toe-to-toe with the McNamara's. The match ended all square, 17-17 in the third set, when the match was called as UCLA advanced to the next round.
---