AVPNext and AVPFirst Duluth on Fox and ABC News
The AVP Next and AVP First tournaments are coming to Duluth, MN! Check out these interviews that our hosts at Skyline Lanes did with Fox21 and ABC 10/13 Duluth!
1. Fox21 Duluth on May 8, 2018 with Natalie Froistad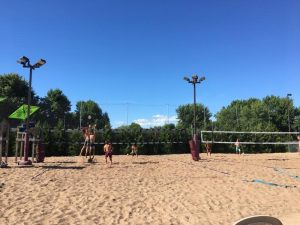 Our hosts, Corey Kolquist and Megan Bell of Skyline Lanes, had the opportunity to talk with Fox21 about the AVP tournament being held later this month in Hermantown. Click here for Corey and Megan's appearance on Fox21.
2. ABC 10/13 Duluth:  For the entire interview on ABC, click here
ABC News Press Release: Duluth, MN: Volleyball players are taking over Skyline Lanes in Hermantown later this month for a pair of AVP tournaments. AVP is a US professional beach volleyball league that features elite players from all over the country.
The AVPFirst tournament is on Saturday, May 26. Age divisions here include 14U, 16U, and 18U. General Manager of Skyline Lanes, Cory Kolquist, says The best young players from around our region and down in the Twin Cities are among those registered to compete.
Then, on Sunday, May 27, the AVPNext tournament will take place. AVP says this is where elite amateur players earn qualification points as well as an opportunity to earn professional points. Teams of two will square off against each other. There will be a Men's and Women's Open division.
For more information about these events, check out the AVP First Duluth and AVP Next Duluth pages.
We're excited to bring beach volleyball to Duluth!
---