TX A&M-Kingsville and Webber Internat'l Win AVCA Nationals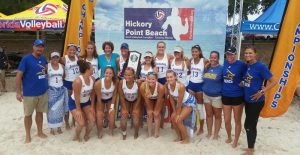 By Stephen McCarthy, Contributor, Prepvolleyball.com
TAVARES, Fla. – Under beautiful 8o-degree skies in Central Florida, Texas A&M-Kingsville and Webber International won AVCA Small College Beach Volleyball titles over the weekend.
Texas A&M-Kingsville defeated Eckerd College 4-1 for the Division II title and Webber International was victorious over Stevenson University, 4-1, for the Fiesta Division title at Hickory Point Beach in Tavares, Florida
Outside of a short weather delay on Day 1, the conditions were near-perfect for college teams from the Division II, III, NAIA and Junior College ranks competing for two titles.
Eckerd College, an early favorite, cruised to the finals, but Texas A&M-Kingsville came into the event riding a four-match losing streak only to run off four straight wins to capture the Division II title. The top tournament pair from Eckerd — Paula Hoffman and Kaitlyn Sibson – won their match to finish unbeaten for the tournament, but Texas-A&M-Kingsville won the other four to cruise to the victory.
The Fiesta Division title was a different story. Webber International defeated Stevenson University 4-1, but three of the matches could have gone either way. Two matches went to three sets and the top pairs played in a tightly-contested 21-19, 21-19 match.
Top Pair of Tournament
Hoffman and Sibson from Eckerd College won all four matches on the weekend with relative ease. The pair ended the year with a 22-match winning streak.
For entire article, click here.
---