2018 NCAA Beach Volleyball Tournament: Day 1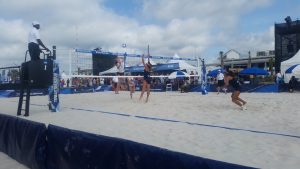 By Stephen McCarthy, Prepvolleyball.com
Gulf Shores, AL: Day 1 Action at the 2018 NCAA Beach Championships was a combination of great weather, top teams in the nation and one of the best beach volleyball venues in the United States. The top seeds won their first round duals easily. The first upset of the day occurred when Florida State broke top-seeded UCLA's 30 dual win streak in a very close match and then number two seed Pepperdine lost to three seed Hawaii, 3-2.
The day started under sunny skies and gusts of wind up to 15 mph off the Gulf of Mexico. Each of the 8 teams played an opening round with the top four seeds winning each of their duals. In the winners bracket, Florida State controlled the match from the beginning, taking 4 of the 5 first sets from UCLA. UCLA stood up and started to mount a comeback that was too little, too late, they had dug a hole too deep to overcome. Hawaii and Pepperdine's dual was much different. Hawaii made the initial move in the first sets, but Pepperdine clawed back to win 3 of the 5 first sets. During the second sets, Hawaii turned the tables and won 2 of the 3 matches with courts 4 and 5 going to a third set. Ultimately, Hawaii's Paige Dreeuws and Hannah Zalopany prevailed 15-13 in the third to win the dual for Hawaii.
Top Pairs of the Day:
1. Hawaii: Ka'iwi Schucht and Emily Maglio, a traditional beach volleyball pair of a big blocker/big power and a great defender. They ground out points with great touches and used the big power when they needed it most. They won both of their matches against South Carolina and Pepperdine.
2. UCLA: Nicole and Megan McNamara, controlled both of their matches with their all-around game. Their great ball control and setting, the occasional big hit and crafty scoring defeated Florida International and Florida State.
3. Pepperdine: Deahna Kraft and Corinne Quiggle, outside of losing a highly contested match against Hawaii's top pair, Deahna and Corrine won their first match in convincing fashion with their trademark efficient play. They continually had outstanding touches on defense, which lead to scoring at a high level. In the end, a couple unforced errors at the wrong time cost them the match against Hawaii.
---