2018 NCAA Beach Volleyball Tournament: Preview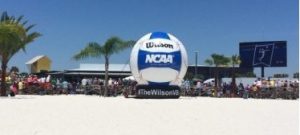 By Stephen McCarthy, PrepVolleyball.com
Gulf Shores, AL: "Sweet Home Alabama" rings true. The top teams in the nation will be making the annual trek to the NCAA Beach Championships in Gulf Shores, Alabama the first week of May. Since 2012, the white sand shores of the Gulf of Mexico have hosted the NCAA tournament, and before the AVCA National Championships. From a pool of 69 NCAA programs, the top 8 teams were selected by the NCAA selection committee to compete in a double-elimination tournament the first week of May to crown the 2018 championship team. This years teams include: UCLA, Pepperdine, Hawaii, Florida International, Florida State, USC, South Carolina, and Louisiana State.
The Early Favorites:
UCLA: They have earned the top seed for the first time in their history and are on a 30 match win streak that includes every team in the field. Outside of USC, they have consistently been one of the top 3 teams in the nation and look poised to take the championship this year. The team is a combination of talent and experience with one of their top players, Elise Zappia, becoming the first Bruin player to reach 100 victories in their career. Interesting Fact: Their top team, Nicole and Megan McNamara, are twins and hail from Vancouver, British Columbia.
Pepperdine: Carrying a record of 24-3 with 2 of the 3 losses to top seed UCLA, Pepperdine may not have the athletes across the board like other teams, but they always know how to maximize their talents and compete with the best. Interesting Fact: After a legendary coaching career and her involvement in creating the college sport of beach volleyball, Nina Matthies, will be retiring after this season.
Hawaii: Head Coach Jeff Hall has the Sandbows on track to compete for Hawaii's first beach volleyball championship. After a 5-3 start to the season, the Sandbows completed the season with 30 straight victories and won the Big West Conference Championship. In head to head duals with UCLA, they are 2-1. Interesting Fact: Coach Jeff Hall grew up in cold, snowy state of Minnesota.
Stephen's Picks:
Hawaii and UCLA in the championship with a Hawaii victory, 3-2.
---