Social Media Making You Anti-Social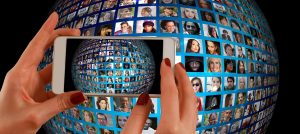 Could social media be making people more anti-social?
Many people who use social media may go to desperate lengths to receive "likes" from followers, the study found.
The social media boom continues to make it easier than ever to stay in touch with loved ones in real time. But with the flourishing of new technology and the ability to be connected to anyone and everyone at any time, real-life human interactions could be suffering a heavy blow.
A recent global study conducted by Kasperksy Lab reveals that social media users are interacting less face-to-face than in the past because of this newfound ability to constantly communicate and stay in touch online. In the study, researchers found that about one-third of people communicate less with their parents (31%), partners (23%), children (33%) and friends (35%) because they can simply follow them on social media. This may be doing more harm than good, in a world where editing one's life to make it appear perfect is more appealing than naturally existing.
For complete study, click here
---