NJCAA announces addition of beach volleyball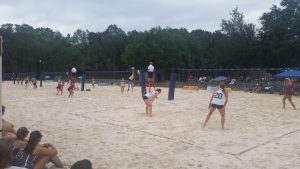 Colorado Springs, CO – At the 2018 NJCAA Annual Meetings, the Board of Directors passed the adoption of beach volleyball to become a full-time varsity sport in 2019, the first sport added to the association since half marathon and women's lacrosse in 2003-2004.
Programs will be able to field teams beginning in the fall of 2018 with the official competitive season beginning in the spring of 2019. The first official national championship will be held in the spring of 2021, the 48th NJCAA national championship event.
Mary Young, head volleyball coach at Central (NE), Vice President of the NJCAA Volleyball Coaches Association, and Region IX Women's Director served as the lead throughout the adoption process. "It's an exciting time for the NJCAA with the addition of the sport of beach volleyball," Young expressed. "This addition will provide endless opportunities to our member schools and most importantly to our student-athletes."
The NJCAA partnered with the American Volleyball Coaches Association (AVCA) during the course of the four-year progression. AVCA Executive Director Kathy DeBoer expressed her enthusiasm of a collegiate organization adding the sport. "Beach volleyball, played as a tennis-style, flighted team sport, is relatively new to the college scene. The growth has been remarkable with over 70 four-year colleges adding programs in just six years. This forward-looking vote by the NJCAA will open new opportunities to attract student-athletes to its campuses and give options to those wanting to move on."
For entire post, visit here.
---