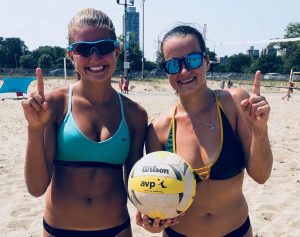 Dates and Cost:
November 29th-December 2nd: $600 per athlete. For commuters, $460 per athlete. No partner required. Limited to 50 players. All players must be current AVPAmerica members. If you need to register with AVPAmerica, click here.
Camp Location:
Bishop McLaughlin Catholic High School
13651 Hays Rd
Spring Hill, FL 34610
Players will be staying at Bishop McLaughlin for meals and accommodations, as well as, training sessions.
What is Included:
1. 3 days/2 nights of accommodations
2. Meals for Saturday and Sunday, see below for specifics
3. Water and snacks during the event
What to Bring:
1. Practice apparel and all related gear, except volleyballs.
2. Towels and all gear for spending time outside
3. Casual clothes for evening activities
4. Water and snacks for your personal use, if desired
5. Bedding for a twin mattress
Camp Schedule:
Friday:
2:30pm Registration and Check in at Thee Beach at Bishop
3:00pm Camp Introductions, Overview of Camp Rules and Expectations
3:15pm On Court Session
5:30pm Dinner at Bishop
6:15pm Off Court Session with Staff
8:15pm Recreational activity
Saturday:
8:00am Breakfast
9:00am On Court Session
11:30am On Court Break and Lunch
1:00pm On Court Sessions
3:30pm Downtime
4:30pm Off court session
6:30am Recreational time and dinner at Thee Beach at Bishop
11:00pm Lights Out
Sunday:
8:00am Breakfast and hotel checkout
9:00am On court session
11:00am Coaches Panel with parents and players
12:15pm Lunch at Bishop
1:00pm On Court Session
5:00pm End of Camp, Player Pickup at facility
Schedule is subject to change.
General Expectations and Details:
1. Approximately 10 days before the event start date, we will send out via email waivers, camp details, staff contact information, detailed camp schedule, drop and pickup times, etc. All waivers must be received by Event House Staff before a player can participate.
2. Player locations will be provided through out the event and managed by the Event House Staff. This staff is comprised of athlete parent volunteers and on-staff personnel. Event House Staff, who are not college coaches, will oversee logistics, emergencies, and off-court activities. A more detailed description is available upon request.
3. Accommodations: No more that 2 players per room, 1 per bed
4. The on court sessions are open for parents to attend
5. Recreational time will be allotted and overseen by the Event House Staff. Camp policy will be that all players must stay in groups and are required to maintain communication with Event House Staff. If players would like to do an activity outside of the camp, they must have a waiver signed by parents or guardians before the camp starts.
6. A Zero Tolerance Policy, related to visitors, alcohol, drugs, etc. will be maintained for players during the entire event. If a violation occurs, the player's parents or guardians will be contacted immediately and the player will not be able to participate from that point forward and no refunds will be issued.